International

Art & Cultural Collaborations
Non Profit Making 

Organization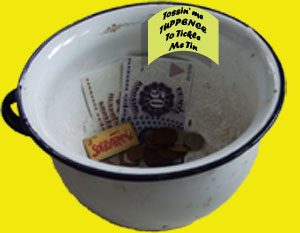 Gdansk (Poland         
Le Havre (France)       
Stoke-on-Trent (England)      
Aarhus (Denmark)
Limoges (France) 
  Falmouth (England)       

 If you have ever scratched around trying to pull off a project, or present your art, with no support and just a mates settee to sleep on.
Welcome to FillUpMeTin
Non Profit Making Organistaion

   We are a group of organizers and artists who work hard to raise funds through various bodies to realize cultural artistic events. I would     also be fair to say that sometimes we manage to realize large and difficult projects with no funding aid at al  proud of our record  and always produce projects with a strong mix of relevant artistic merit and social conscience.